The following is some of the much appreciated feedback we have received from people whose pets we have helped. Email your comments to [email protected]. Thank You.
---
Dear Dr. Hinsch and Michelle,
I cannot put into words how wonderful you both were in my time of need. My sweet, gentle Buddy's health had been failing for a while but this past week I knew the time had come. The one thing I always promised him was that I would never let him suffer just to keep him by my side. I loved him to much to be that selfish. When I contacted you, I immediately knew I was doing the right thing and doing it with people that had the love and understanding for what I needed to do. Doing a home euthanasia is a wonderful way to be able to let your best friend begin his journey to the Rainbow Bridge. He is able to stay in his home environment and that makes him calm. I sat beside him , petting him and holding him, through the entire procedure which was simple and you both made it seem like you were just visiting friends. You gave me time alone with my boy to hug and hold him him one last time and shed some tears before I said goodbye. There was never a sense that you were in any rush or that it was a business transaction. You both are wonderful and a true gift to all four legged family members giving them a proper respectful send off.
Thank you.
A loving mom to my Buddy,
Linda T

---
Thank you for making Sugar's passing so calm and peaceful. It really was like she just went to sleep. I had a Facebook "friend" who told me, in detail, about how her baby fought and struggled with the euthanasia process, and I was really scared. Sugar was our sweet, sweet girl, and we loved her so much.
I found a new puppy at the Humane Society. Normally, I will adopt an adult dog because they need it so much more, but I really needed a puppy in my life right now. Her name is Sadie. Thank you SO MUCH for your service, it was everything I hoped for. And she had such a good day the day before she told us she was ready. I am not religious, but thank you, and bless you. You provide such an amazing and needed service for our very much loved fur-babies.
Love always, Molly

---
---
---
---
---
One of the most difficult euthanasia's is when children are present. There is no right way and we strive to follow the parents lead. We got this picture from a family that that did a great job of preparing their children for the passing of their beloved dog. They had them draw pictures of their dog and what was about to happen. It was a very emotional but rewarding experience
---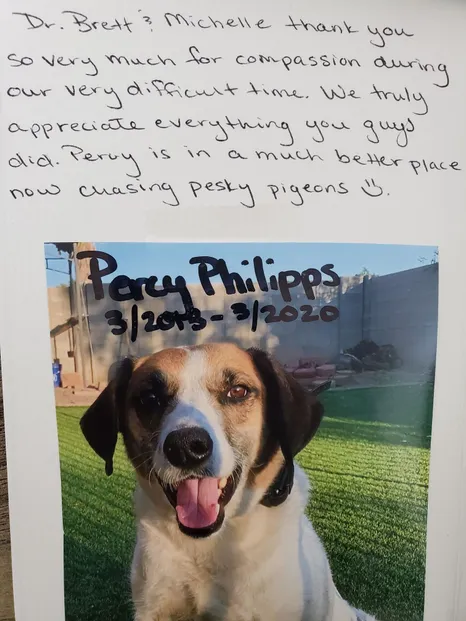 ---
---
---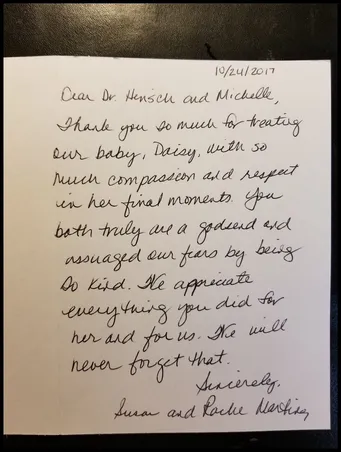 ---
Hi there Michelle and Dr. Hinsch! I wrote a card but there wasn't nearly enough room for the share I wanted to provide for others in the future who are considering your services. Dear Dr. Hinsch and Michelle, I wanted to thank you both from the bottom of our hearts for being with us and being who you are through this difficult, first time we have had to make this decision with a pet. I have had many a pet in the past but none that I have ever had to make such a heartbreaking decision on. Our cat Herman was diagnosed with cancer 7 days prior to meeting you both in person and that diagnosis came at such a rapid conclude that my boyfriend and I barely even had time to process what was happening. I had Herman since he was 3 months old, he was a stray. This was one of the most difficult decisions I have ever had to make in my entire life! Michelle-Thank you so much for being so empathetic on the phone, just reassuring it will all be taken care of, advising and answering all the questions we had, being so patient. Handling our loved one with gentle hands. Dr. Hinsch-Thank you for being so quick! There was point in time when I heard the doorbell ring I almost ran with Herman, that flight feeling of I am not ready for this! Haha. Michelle thank you for talking to me when Dr. Hinsch was doctoring. Talking about great memories really helped me keep my stuff together. Dr. Hinsch thank you so much for just reaffirming that we are making the right choice and just medically speaking out loud to the condition of our sweet Herman upon your arrival and seeing him, it helped keep our focus. For the readers. I haven't had a lot of experience in this arena but I do know human loss and matters of the heart and 10 out of 10 times will recommend Dr. Hinsch and Michelle every time. When I called, she took the time to answer questions. She accommodated our schedule and they were on time and comfortable. Thank you both so much! The card just really was great, thank you doesn't suffice but we can't say it enough.

---